A new website for RDBYC members Chris and Lee Kirk vessel 'Libertas', has been launched recently. www.sailandyoga.com was written to promote charter aboard their 47ft Jeanneau vessel'Libertas' in response to a successful charter season in Croatia last year.
Lee says 'We fell into this my chance in 2008 when a guy we knew across the marina from us in Dubrovnik, asked us if we were interested in taking over some of his charter business. We trialed the concept of combining sailing and yoga and the response to date has been amazing! We have had numerous emails from our clients last year asking if we are available again this season.
Lee took up her Yoga teacher training after leaving her former career as an airline cabin manager with UK carrier Britannia Airways.
'I used to do yoga on beaches in beautiful destinations as a method of de-stressing after long flights, and after I left Brittania, I undertook training in the Karuna/Iyengar style of Yoga Teacher Training and I have now completed the 500 hour highest-level Teaching diploma. My knowledge, experience and teaching style has grown organically and I became well-sought after in London for my unique, and ambient style of teaching.'
The core product of Sailing and Yoga, with our additional personal philosophy of anchoring in secluded locations, where our clients can swim without neighbours and where the water-quality is clean has been popular. 'We like to anchor away from the mainstream tourist traps where charter boats are 'stacked' on quay walls with noise, dirt, filthy water and nosey tourists looking into your cockpit; yet close enough so we can drop our clients ashore in the evenings via our tender, so that they can enjoy the restaurants and night-life' says Chris. ' Our clients love being able to wake up in tranquil surroundings, and swim off the back of the boat to wash the sleep from their eyes.'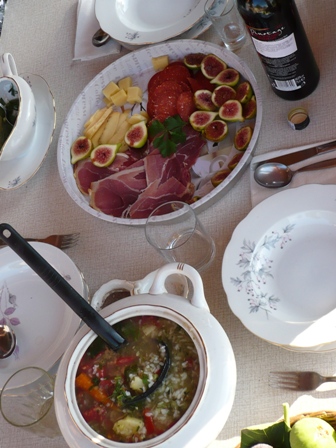 After an outdoor rinse in fresh water they are greeted with fresh fruit and Chris' specialty - freshly ground and brewed coffee, followed by a selection of other tasty treats that are produced in Libertas' galley. 'I am personally motivated by having the best coffee possible' says Chris. 'At home I have a full-sized commercial espresso machine, and although I can't have that aboard Libertas, I am motivated to buy the freshest beans which I grind fresh and produce the best daily hit possible.' There have been no complaints to date, and comments on the SailandYoga GuestBook reflect their clients approval!
Chris and Lee moved 'Libertas' from Croatia towards the end of the 2008 European summer and sailed down the Adriatic and Ionian seas, then east through the Gulf of Patras and Gulf of Corinth and Corinth canal, and then finally across the Northern Cyclades islands in the Aegean Sea to Turkey, where the vessel is now wintering.
'We had some fantastic experiences along our 46 day passage from Croatia to Turkey'.'We had enough time to explore and actively sought out possible locations for the 2009 sailing season. We have decided to base ourselves out of Syros - which is the administrative center for the Cyclades, this season and this allows convenient access from Athens via the efficient Greek fast-ferry network.' Greece is peppered with picturesque locations and guests will love their favourites which range from natural hot-springs on a beach in one secret location, to Paradise Beach on Mykonos, which is a vibrant and noisy clubland favourite. 'It's pretty styley having your own vessel parked off the beach, and a clubbing scene a short swim away' says Chris.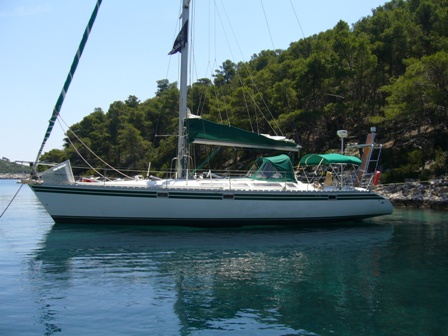 For more information contact info@sailandyoga.com or visit the website www.sailandyoga.com
Sunbaking....and not a care in the world!